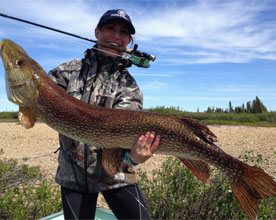 Jessica, who reins from Washington DC has been officially crowned queen (and king) of the fly fishing world in Manitoba for landing and successfully releasing this huge 48" pike on a fly.
Jessica's Northern Pike was the biggest fish recorded in the Manitoba Master Angler Program (which includes the entire province and every other lodge) during the 2012 fishing season. What an honor!!!
Jessica, along with her husband Jeffrey and 2 year old son Hunter were first time guests of the Lodge at little Duck. Also accompanying the Kimbell's on their inaugural trip to The Lodge at Little Duck were their good friends Jonathan and Kathy Tomares from Dickerson Maryland. Journeyman guide and fly fishing extraordinaire Ryan Suffron lead the charge in putting Jessica on this fish.
Jeff and Jessica, along with Hunter and the Tomares's will be returning to The Lodge again this season during the first week of July, however, they will have in tow Cooper Timothy Kimbell who at 8 months will officially be the youngest fisherman at The Lodge to date. Let's see…… if we do the math, Jessica was almost 6 months pregnant with Cooper when she landed her Manitoba Monster last season. That's an incredible fishing story for an incredible lady. Congratulations Jessica!!!!