Rifle
Suggested calibers are 270, 280, 7mm, 300, 338 in magnum loads. In some cases, long range shots of 3-400 yards are necessary; however, most shots are in the 1-200 yard range  (or closer). We recommend you bring 2 boxes of rifle shells (40 rounds) just in case re-sighting of your rifle is necessary
Archery
Quickly becoming a very popular means of harvesting game. The area around Edehon Lake has rich pockets of spruce, tamarack and dwarf birch, along with outcroppings of rock, natural ridges and ravines which provide the ability to stalk your prey while also creating many "pinch points" for animals to pass through. Shooting lots of arrows in the 40-60 yard range confidently prior to your arrival is not only encouraged, but strongly suggested. Because this is trip of a lifetime to many, some hunters bring both bow and gun (as a back-up).
Muzzleloader (50 Caliber or larger)
Is another great option for hunting Caribou. Because of airline regulations concerning the transport of black powder and caps, it is suggested that you make arrangements with us at least 45 days prior to your trip so we have everything you need at the lodge when you arrive. We have a shooting range at the camp to ensure your weapon is shooting accurately. Restricted weapons such as handguns are not permitted in Canada for hunting or self-defence.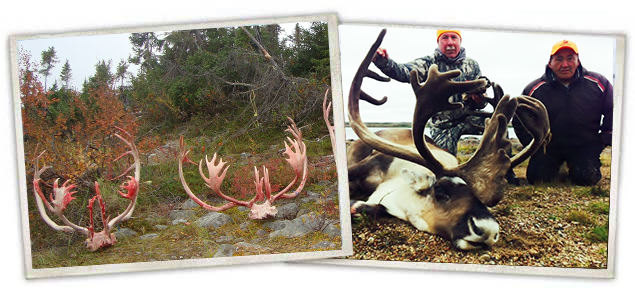 Bringing Firearms into Canada
Hunters entering Canada with firearms must fill out the appropriate RCMP Firearms Declaration Forms and be in possession of this form when crossing the Canadian Border. Once your reservation is considered "firm", we will provide all the necessary forms and guide you through this process.
Wounded Animals – Depending on the circumstances, a wounded animal that is not retreived may count as a harvested animal. This will be left up to the discretion of the guide/outfitter.
Ethics – As with any hunting activity, we ask that you show the utmost respect for the harvested animal, and in doing so, make all efforts possible to deliver a swift and humane kill. You will also respect the environment, other wildlife, and fellow hunters
Book your Trip Today!