Just imagine immersing yourself in the pristine beauty of the Canadian Sub Arctic Wilderness. Whether you are a camera buff, a trekker, explorer, bird watcher or amateur archeologist, the area around The Lodge at Little Duck has something to offer everyone
Come and enjoy the land of the midnight sun and experience the magic of the north by day and all the comforts of our full service lodge at night.
Many guests exploring the area close to The Lodge have uncovered artifacts from a people that inhabited this land so long ago.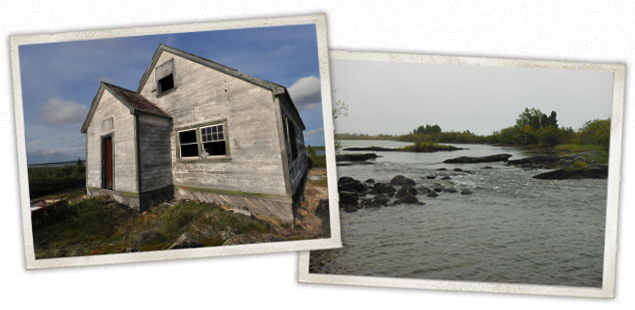 A short distance from The Lodge, you take a step back in time and experience the old site of Caribou Post, a Hudson's Bay Company trading post that was in operation until 1956, which has the original old Anglican Mission alongside it. Caribou Post was the main trading location of the Sayisi Dene who lived in villages within walking distance of the post. Walking to these villages from the Trading Post provides a very enjoyable hike, and a reminder of what is was like back in those days to simply acquire the most basic of supplies to survive.
During the same year, 1956, the Sayisi Dene were relocated from this area by the Department of Indian Affairs to Churchill MB and the post was abandoned. Still to this day after many years of severe weather and time, this location still provides an amazing glimpse of what was here so long ago.
The stark beauties of the Arctic Barren Lands begin at The Lodge at Little Duck. The hues and colors of the sand eskers, weathered rocks, moss, lichen, dwarf birch, stunted tundra spruce and tamarack mix to create a natural tapestry that is simply breathtaking. Guests also have the opportunity to see local wildlife that inhabits the area such as Caribou, Moose, Arctic Wolves, and Fox, and migratory birds such as Cranes, Geese, Ducks. Ptarmigan and a host of other birds that summer and nest in this part of the country can also be observed.
During a birding survey last summer at The Lodge by the Manitoba Bird Atlas, the Long Tailed Yeager was found to be in the area, and was the first documented sighting in Northern Manitoba. Needless to say for the birders, they were extremely excited at their finding. For further information on bird watching opportunities, or the findings of the group, please call for details.
For those that want to experience a day or two of fishing for trophy northern pike, lake trout or arctic grayling, or simply exploring the hundreds of miles of shoreline, guides are available to take you on this adventure. Advance notice is required.
If you are considering a vacation of a different sort, we would love to show off what we are so fortunate to have at The Lodge at Little Duck and surrounding area.
Come relax and enjoy the many opportunities of the 'Magnificent North' at The Lodge at Little Duck
Book Your Trip Today!