Little Duck Lake and the surrounding area have a very interesting history.
A history tied to the migrating herds of caribou and the fur trade.
Little Duck Lake adjoins Nejanilini Lake on the southeast by a short stretch of the Wolverine River and lies approximately 65 miles south of the Nunavut/Manitoba border. It is the start of the barren lands, where the "land of the little sticks" gives way to the tundra.
The original inhabitants of Little Duck Lake were the Sayisi Dene, which were part of the Fort Churchill Chipewyan Band. Sayisi Dene translates as "the people of the rising sun" or "people of the east". They were also known as the Idthen-eldili or "caribou eaters".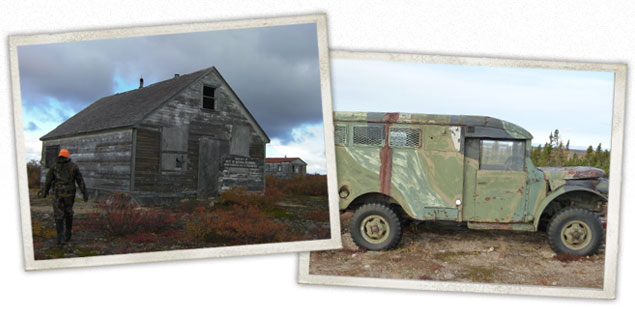 Many miles to the south lies the Churchill River system which flows northeast to Hudson Bay, where the City of Churchill is located. The Churchill River was the traditional dividing line between the northern Chipewyan people and the Cree to the south. The open tundra north of Little Duck Lake separated the Sayisi Dene from the Padlimiut or Caribou Inuit.
The Chipewyan and Inuit peoples have traditionally been mortal enemies in the past but both relied heavily upon the caribou herd for their existence and over the years artifacts from both peoples have been found in the Nejanilini and Little Duck Lake area.
Caribou Post, a Hudson Bay Co. trading post, was originally built in 1930 on Caribou Lake , which is approximately 50 miles east of Little Duck Lake. In 1941 the post was dismantled and moved by winter road to Little Duck Lake. The Hudson Bay Co. bought furs from the local Dene trappers and transported them by boat down the Wolverine River to the Seal River and then out to the coast of Hudson Bay .
At different times the lake also supported both Roman Catholic and Anglican Missions, and in 1943 the US Military established a weather station near the trading post, which was utilized during WW II and then abandoned in 1946.
By 1956 the fur volumes had dropped to the point that the Hudson 's Bay Co. decided to close the trading post. That same year the Department of Indian Affairs relocated the Dene of Little Duck Lake to Churchill. Although the Sayisi Dene no longer inhabit the area, the old buildings of Caribou Post, ravaged by time and the harsh sub-arctic winters, are still there to be explored by history buffs.
Historical information and photographs courtesy of Mr. Ray Englund, Winnipeg , Manitoba .