Once you leave civilization 260 miles behind you and the wheels of our chartered aircraft touch down on our airstrip, we will be on deck to personally greet the plane and welcome you to The Lodge at Little Duck.
After introductions are made to the new guests on board, we take special pride in welcoming back those friends that are returning for yet another adventure with us.
Once we unload everything from the plane, we will get everyone down to the Main Lodge where each guest will have their luggage and belongings brought to their cabin.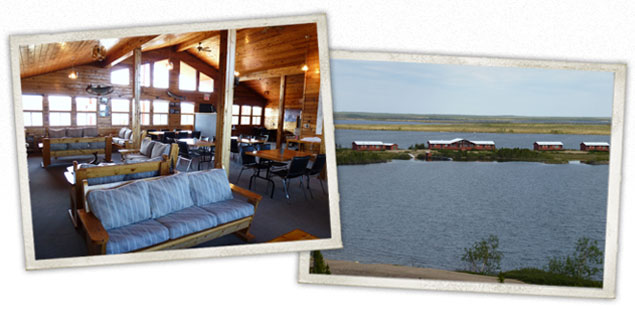 We all meet soon after in The Main Lodge where a quick but detailed orientation will take place with our staff explaining some of policies we have in place such a safety concerns, meal times, activities etc. Please remember that your personal safety is at the top of our list, and this is why we want to share some of the procedures we follow on a daily basis with you. It's also a great way for you to understand how we do things, and why, in the part of the country we call home during our different seasons. After a delicious northern breakfast, you are well on your way to confidently experiencing your fist day's adventures with us.
Lodge, Meals and Cabins
The Main Lodge sits on the end of a glacial sand esker and is roughly 3,000 square feet in size. The lodge provides a comfortable setting where you will have all your meals or relax with your favourite cocktail after a day on the lake or in the field. Highlights of the day include sharing the many exciting stories of the day with your friends and other guests, or simply finding a quiet area to sit back and reminisce about the experiences of the day. You may want to consider reading a book or just stare out the many windows at the amazing landscape you are re-familiarizing yourself with or have just discovered. The main lodge with its floor to ceiling windows that overlook the lake on both sides is the comfortable gathering place for all. The interior of The Lodge is finished completely in natural cedar which really lends to the northern ambience.
If connecting to the outside world is a must during your stay, wireless internet and satellite phone is available onsite. We have many different board games, dart boards, cards with poker chips, crib boards, backgammon etc… that provide both friendly and competitive games with your group or other guests.
Our meal selection is simply out of this world. Starting with our "whatever you want breakfasts" of pancakes, bacon/ham/sausage and eggs, hash browns, french toast, fresh fruit, cereals, yogurts and bagels to dinners of fresh salads, soups, Prime cuts of AAA beef, veal, lamb and pork along with seafood, chicken and pasta combo's certainly offers variety to all. Top it all off with delicious homemade breads, buns and desserts and you have a winning combination. We understand some of our guests have likes and dislikes, and we will do our absolute best to accommodate everyone's tastes and choice of meals. If certain food allergies are a concern, again, just let us know ahead of time, and we'll address each situation on an individual basis.
At the end of the day, be rest assured that we have your comfort in mind. All our cabins are detached from the main lodge, and each cabin offer's 3 fully carpeted suites. All suites are finished in natural cedar and can accommodate 2-4 persons. Each suite has a private bath and has its own thermostatically controlled electric heat.
We sincerely look forward to having you as our guest at The Lodge at Little Duck.