Hunting Rates
2 Tag Hunt
$11,995.00
1 Tag Hunt
$10,995.00
$480 per tag (see below)
1 & 2 tags hunts available, please call for details
Book your Trip Today!
Hunting Dates
All Caribou hunts are 7 days in length (5 full days of guided hunting)
Edehon Lake
Aug 29 – Sept 4
Sept 4 – 10,
Sept 10 – 16
Sept 16 – 22 (tent. dates)
Baralzon Lake
August 27 – September 2
September 2 – 8
September 8 – 14
Caribou License's – includes all licenses/tag, trophy fees along with export permits (Prices subject to change as per Nunavut HTO & Conservation) Non-Hunting Companion Rate –$7,995.00 based on availability
Ask us about adding a Wolf or Wolverine to the hunt (license and trophy fees apply). Visit us at Henik Lake Adventures for more details on our Combo Hunts, along with Caribou Dates and Rates
The Hunt Includes;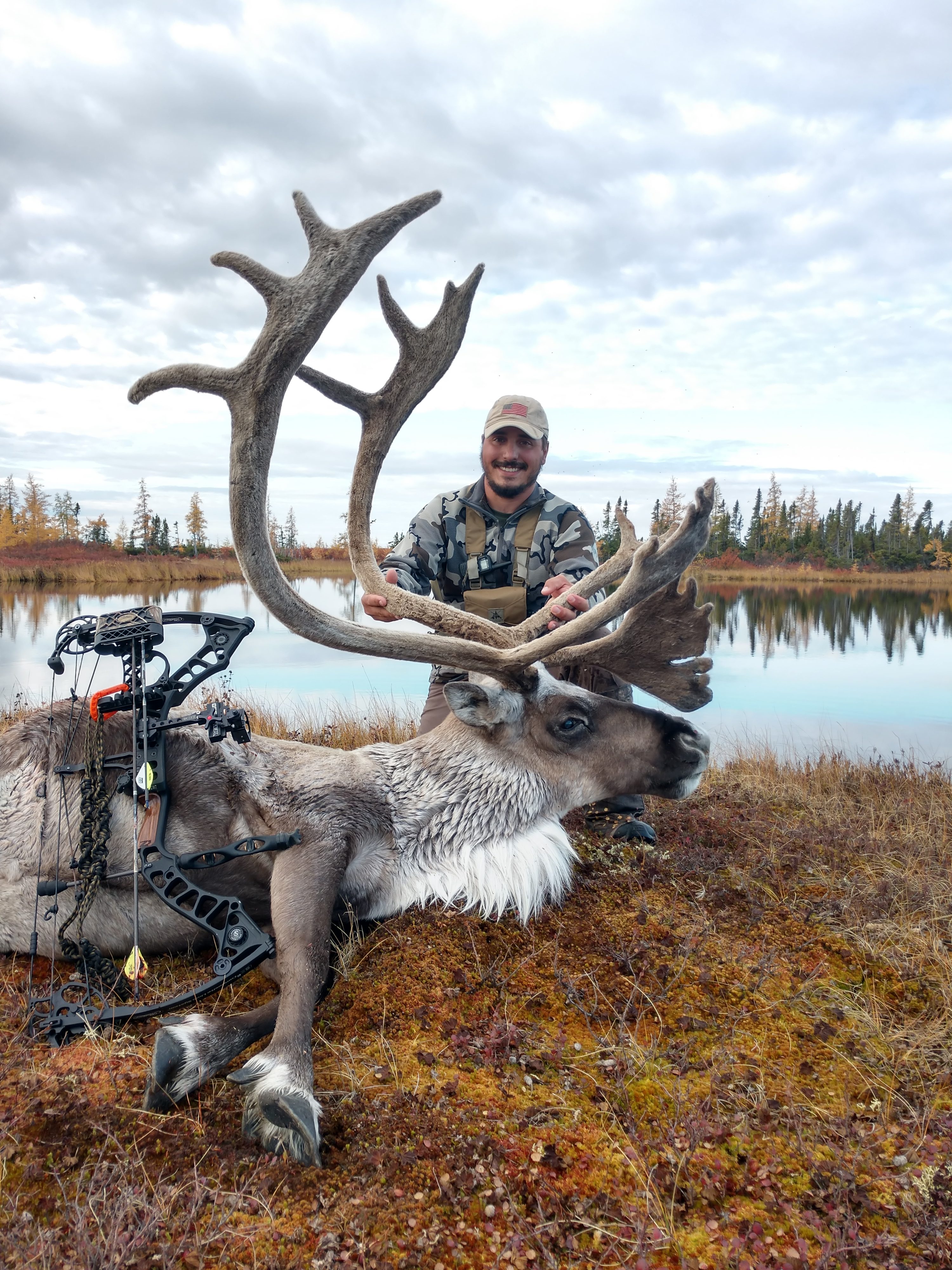 Round trip air transportation from Thompson MB to your Nunavut Caribou Camp

Comfortable, dry and warm accommodations.

'Delicious home cooked meals

Experienced, knowledgeable and friendly Inuit guides – 2 hunters per guide

Boat, motor and gas along with all boating equipment

Opportunity to hunt Arctic Wolf, Wolverine and Ptarmigan (ask for details)

Field care of your trophy animal

De-boning, caping and freezer service

Preparation of both meat and antlers for your travel home

40 lbs of total meat for take home. Tenderloins, back straps, roasts etc..

Fishing for Northern Pike, Lake Trout and Arctic Grayling

Rods, reels (tackle extra) for your complimentary use

Complimentary soft drinks, bottled water, juice

Services of friendly, knowledgeable and experienced staff
Not included in the hunt:
Applicable Taxes

Hunting and fishing licenses

Gratuities to guides and support staff

Pre and post meals, accommodation and transportation




Deposit Requirements
A deposit equaling 50% of the total package is due within 14 days of booking. Deposits are non-refundable and non-transferable within a particular group, however, a new hunter can be brought in to take the place of someone that cant make it. All remaining balances are due on July 1 (year of trip). If booking a year in advance, a $2,000 deposit is due within 14 days of booking. On January 15, (the year of your trip) the deposit needs to be brought to 50% of the total package price with the remaining balance due by July 1, (year of hunt). Full payment of reservation is due on all bookings made less than 90 days prior to arrival. Deposits and final payments can be paid with personal or business cheques along with money orders.
Visa and MasterCard payments are also accepted; however, these transactions will be subject to a 3% surcharge.
The initial deposit is due within 14 days of booking along with your completed booking forms. Only when these are both received your reservation is considered confirmed. If secondary (where applicable) and final payments are not made by the due date and in the amount outlined on your invoice, your reservation may be cancelled and your deposit withheld.
Cancellation Policy
If the cancellation of a trip is necessary, deposits can be credited towards another trip within the same calendar year only if space and availability exists. We strongly suggest the purchase of travel or trip interruption/cancellation insurance. Some companies require this coverage to be bound within 14 days of your first deposit, so please check carefully with your insurer as to their requirements for this type of insurance.
Overnighting in Thompson
Guests must overnight in Thompson Manitoba the night before their scheduled arrival
flight to The Lodge. For your stay in Thompson, we recommend The Days Inn 1-204-778-6000. Mention at the time of booking you are a guest of The Lodge at Little Duck, and you will receive a discounted corporate rate. Guests are responsible for the hotel charge
Lodge Representative (expeditor) in Thompson
We have a Lodge representative (expeditor) in Thompson that will meet your flight, provide transportation to your hotel, make sure you get checked in, and bring you back to the airport early the next morning for your flight to The Lodge (app 7:00 am). Alternatively, if you are driving, contact can be made with Colleen once you arrive at your hotel. (204-679-6315)
Guests that miss the chartered scheduled flight to The Lodge at Little Duck and beyond are financially responsible for their own transportation to The Lodge and on to your hunting camp. Guests must overnight in Thompson Manitoba the night before their scheduled flight north. Once your trip is completed, we make every effort to have you back in Thompson by noon on the day of departure. Please try to make all southbound air connections to Winnipeg late afternoon/early evening.
Responsibility Statement:
The Lodge at Little Duck Ltd., its owners and staff make every effort to satisfy our guests. We will assume no responsibility or liability for any hazard of any kind associated with these trips. Neither is any obligation or responsibility assumed for any political, meteorological, family, climatic, mechanical, or other circumstances or for the actions of transportation companies, contractors or other principles for which The Lodge at Little Duck Ltd contracts.
No refunds will be made for unused portions of the hunt due to conditions beyond The Lodge at Little Duck's control.
All hunting activities will be carried out in a sporting, fair chase manner, which does not imply or express any guarantee with regards to the harvesting of any game animal. As with all hunting trips, there is a slight chance that the sought after game animals may not be present during your hunt period. This scenario is beyond the control of The Lodge at Little Duck Ltd, and therefore, will offer no guarantee, discount or reimbursement of any kind for this situation. All applicable regulations/laws with respect to angling, hunting and the safe use of firearms will be strictly adhered to.
By sending a deposit to The Lodge at Little Duck Ltd for one of our hunting/fishing trips, the guest is acknowledging that he/she has read and fully understands the terms and conditions above.
Every effort is made for the charter flights to run on time, however, safety is paramount and the decision to fly or not is not made by The Lodge at Little Duck and remains beyond our control. We will assume no responsibility for missed flights due to weather.
Book your Trip Today!